A 29 foot Imperial Sports Fisherman comes equipped with Two Fish Locators, a Refridge, GPS system, Head, Bertain and Galley, Four Electric Down Riggers, VHF Radio and a Fulltime Working Mate!
2023 LOC DERBY DATES
Spring: MAY 5 - MAY 14
Summer: JULY 1 - JULY 30
Fall: AUG 18 - SEPT 4
View PRIZE PAYOUT!
Phone-888-733-5246
local - 315-333-3213
Surprise Packages Available
Do you have a birthday, graduation or anniversary coming up?  Want to take the boss out for his birthday? What better way to celebrate then a fun day fishing on beautiful Lake Ontario! If you're an individual, group, family or corporation wanting to treat your office group or that special someone in your life, then consider Bulldog Charters as your host!
After your fishing trip, enjoy your celebration party just a few steps away at Schooner's Riverside Restaurant and Bar.
Have a large group? With multiple boats available reservations can be made to accommodate your entire group!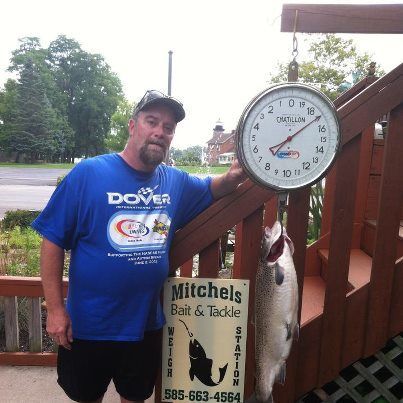 Congrats to Gregg Ranieri!
Gregg is our 2nd Place Winner for the Fall LOC Derby Brown Trout Division, caught aboard Bulldog Charters!
2023 LOC DERBY DATES
Spring: May 5 - 14
Summer: July 1 - July 30
Fall: August 18 - September 4
Contact LOC for more information about local derbies.
View the PRIZE PAYOUT!
Phone: 888-733-5246
Local: 315-333-3213