A 29 foot Imperial Sports Fisherman comes equipped with Two Fish Locators, a Refridge, GPS system, Head, Bertain and Galley, Four Electric Down Riggers, VHF Radio and a Fulltime Working Mate!
2023 LOC DERBY DATES
Spring: MAY 5 - MAY 14
Summer: JULY 1 - JULY 30
Fall: AUG 18 - SEPT 4
View PRIZE PAYOUT!
Phone-888-733-5246
local - 315-333-3213
Bulldog Fishing Charters – Lake Ontario
Captain Bradd "Bulldog" Hillebrant welcomes you to join him on Half or Full day trips on beautiful Lake Ontario. Captain "Dawg" as some call him, has been fishing the waters of Lake Ontario for over 25 years. USCG Master Licensed and Approved, safety and fun is the Bulldog's number one priority.
Equipment and tackle is provided and you don't need to be experienced to go fishing. You will need a valid NYS Fishing License and your personal charter can bring up to four individuals on each trip. Bulldog Charters is conveniently located and docked right next to Schooner's Restaurant. After your fishing trip enjoy a bite to eat or drink at the outdoor restaurant and bar!
The Bulldog will arrange your special party celebrations at Schooner's!
Capt. Bulldog personally invites you to join him for a great time or he'll make you "Walk the Plank". Oh, and he also guarantees you'll get a fish….
See Our New Photo Gallery! One of my clients won 2nd place in the Brown Trout Division in the Fall LOC Derby!
Best Location In Town!
Located in one of Rochester's Best Spots! After you're done fishing, step off the boat and enjoy lunch or dinner right next door at Schooner's.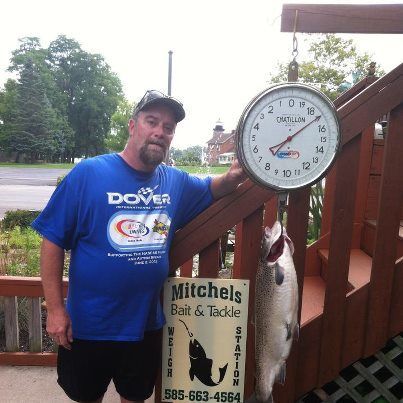 Congrats to Gregg Ranieri!
Gregg is our 2nd Place Winner for the Fall LOC Derby Brown Trout Division, caught aboard Bulldog Charters!
2023 LOC DERBY DATES
Spring: May 5 - 14
Summer: July 1 - July 30
Fall: August 18 - September 4
Contact LOC for more information about local derbies.
View the PRIZE PAYOUT!
Phone: 888-733-5246
Local: 315-333-3213