A 29 foot Imperial Sports Fisherman comes equipped with Two Fish Locators, a Refridge, GPS system, Head, Bertain and Galley, Four Electric Down Riggers, VHF Radio and a Fulltime Working Mate!
2023 LOC DERBY DATES
Spring: MAY 5 - MAY 14
Summer: JULY 1 - JULY 30
Fall: AUG 18 - SEPT 4
View PRIZE PAYOUT!
Phone-888-733-5246
local - 315-333-3213
Holiday Inn Express Discount
Get discounted rooms at the Holiday Inn Express, Irondequoit. Located 10 minutes from the Dock off Route 104. Mention "Bull Dog Charters" and get a 10% discount off your rate!
Best Location In Town!
Located in one of Rochester's Best Spots! After you're done fishing, step off the boat and enjoy lunch or dinner right next door at Schooner's.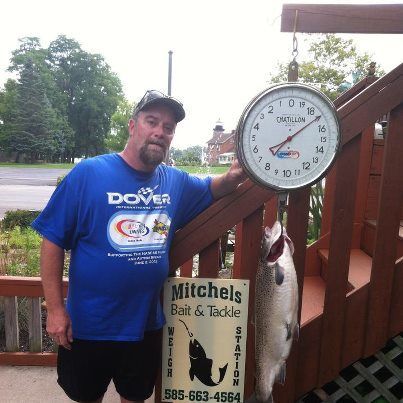 Congrats to Gregg Ranieri!
Gregg is our 2nd Place Winner for the Fall LOC Derby Brown Trout Division, caught aboard Bulldog Charters!
2023 LOC DERBY DATES
Spring: May 5 - 14
Summer: July 1 - July 30
Fall: August 18 - September 4
Contact LOC for more information about local derbies.
View the PRIZE PAYOUT!
Phone: 888-733-5246
Local: 315-333-3213