A 29 foot Imperial Sports Fisherman comes equipped with Two Fish Locators, a Refridge, GPS system, Head, Bertain and Galley, Four Electric Down Riggers, VHF Radio and a Fulltime Working Mate!
2023 LOC DERBY DATES
Spring: MAY 5 - MAY 14
Summer: JULY 1 - JULY 30
Fall: AUG 18 - SEPT 4
View PRIZE PAYOUT!
Phone-888-733-5246
local - 315-333-3213
Common Questions
Answers to some common questions you may have. Please don't hesitate to ask the Captain if you have any additional questions.
How many people are allowed on the boat?  You can have up to 4 people per trip. If you have a large group Capt. Dawg will  arrange for additional boats.
Do I need to bring any gear?  No, all gear is provided.
Can I bring Food & Beverages?  Yes, you certainly may bring Food and Beverages along with you. Beer is also allowed.
When does the fishing season start?  April-October
What type of fish can I expect to get?  Well, we hope you go home with something, but the most popular Lake Ontario fish are, Brown Trout, Lake Trout, Steelhead, Coho Salmon and King Salmon.
Can we take photos? Yes, pictures are encouraged!
Please be prepared with appropriate foul weather gear if needed. Thanks and hope to see you soon!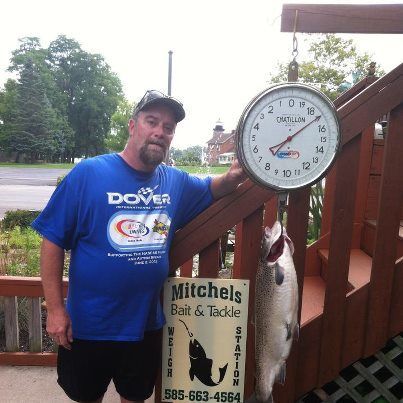 Congrats to Gregg Ranieri!
Gregg is our 2nd Place Winner for the Fall LOC Derby Brown Trout Division, caught aboard Bulldog Charters!
2023 LOC DERBY DATES
Spring: May 5 - 14
Summer: July 1 - July 30
Fall: August 18 - September 4
Contact LOC for more information about local derbies.
View the PRIZE PAYOUT!
Phone: 888-733-5246
Local: 315-333-3213